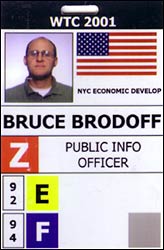 The following articles were published in the aftermath of the World Trade Center disaster on the website www.haleisner.com, a television news industry site created by veteran KCOP-TV (UPN 13 Los Angeles) reporter Hal Eisner. Hal is also on the Board of Directors of the Southern California Radio and Television New Association and the Associated Press Television and Radio Association, and is in his fifth year as the Executive Producer of the Los Angeles Area Emmy Awards. The first two articles, which were adapted from a series of e-mails I sent to Hal, have been edited for clarity.
Wednesday, Sept. 12, 2001, 7:24 P.M. I am shaken but OK. Thank God I left my house early to vote in New York's Mayoral primary and got to my office 30 minutes before I usually do...
Full Article >>
The past few weeks have been extraordinary time to be a New Yorker and to work for the Giuliani Administration. A few days after the disaster I was summoned to work at the Joint Information Center that was created within the Emergency Command Center complex on the west side of Manhattan (housed in the Passenger Ship Terminal along the Hudson River).
Full Article >>
It's been seven weeks since the Twin Towers were destroyed, and there are signs that the City is beginning to recover. The "frozen zone" around the site continues to shrink, opening more streets to pedestrians and vehicles. Shuttered subway stations and businesses are beginning to reopen, the hotel and restaurant industry is picking up, the financial markets are operating, the Yankees are once again in the middle of a fall classic, and the Indian summer is bringing out the strollers and outdoor enthusiasts.
Full Article >>