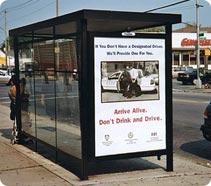 Challenge
Combat the alarming number of drunk driving accidents and fatalities in New York City.
Solution
Create a hard-hitting advertising campaign that illustrated the dangers and consequences of driving under the influence of alcohol in New York City.
Result
An award-winning advertising campaign that, along with a synchronized, aggressive NYPD enforcement campaign, helped reduce DWI deaths in New York City by more than one-third over a one-year period.
---
Information About the Campaign
Following the success of the Hurricane and Flood Safety Awareness Campaign, Bruce recognized the need to tackle a far more dangerous situation that was wreaking havoc across the City -- drunk driving. A series of horrific, high profile drunk driving accidents had rocked New York City over a short period of time, and it was clear that something needed to be done.
Realizing that newly-elected Mayor Michael R. Bloomberg may want to begin his tenure with a high-profile public safety initiative that would help establish his strong commitment to keeping New York City the safest large City in America, Bruce created a series of advertisements and pitched the idea of an ad campaign/police enforcement initiative to City Hall officials.
After he met with City Hall officials and they approved the campaign and the ads they wanted to use, Bruce worked with New York City Police Department and New York City Department of Transportation officials to plan the production and implementation of the advertising campaign. His efforts culminated in a major City Hall press conference on May 22, 2002, during which Mayor Bloomberg, NYPD Commissioner Raymond Kelly, Department of Transportation Commissioner Iris Weinshall and other City officials unveiled the ad campaign and the details of a major DWI enforcement initiative.
The campaign, which garnered comprehensive local and national media coverage, was displayed on hundreds of bus shelters, community billboards, and subway cars/platforms throughout the five boroughs from June 2002 until October 2002 and won the top prize in a major international communications industry competition.
According to NYPD statistics, the initiative was a great success; there were 31% fewer DWI deaths in New York City in 2002 than in 2001, and arrests of intoxicated drivers were up 10% during that time as well.
Read Mayor Michael R. Bloomberg's Press Release
View the Ads